2020 Festival Artist
Born in Newcastle, Australia, Nicki started her musical training at age four with the piano, followed by the flute, soon after. Nicki switched to double bass at the age of 15. In 2012, Nicki headlined the Fujitsu Concorde Jazz festival after the release of her eighth CD from Venus Records, Sakura Sakura. She is currently recording her 16th release for the label. "Nicki brings clear articulation, beautiful tone, a sense of rhythmic assuredness
and a touch of allure to inventive arrangements." – JAZZ TIMES
ABOUT
Born in Newcastle, Australia, Nicki Parrott started her musical training at age four with the piano, followed by the flute, soon after. Nicki switched to double bass at the age of 15.
After graduating high school she moved to Sydney to study jazz at the New South Wales Conservatorium of Music where she began to play with Australian musicians such as Mike Nock, Dale Barlow, Paul Grabowsky, Bernie McGann, and Ten Part Invention. She also toured Australia with Russian musicians Daniel Kramer and Alexander Fischer and American trumpeters Bobby Shew and Chuck Findley. She continued her studies with various bassists including visiting artists Ray Brown and John Clayton.
Nicki was the recipient of two awards, a scholarship to Pan Pacific Music Camps at the age of 16, and first place in the 1992 Jazz Action Society's Annual Song Competition for her composition "Come and Get It," which is the opening track of Nicki and her sister Lisa's debut CD, "Awabakal Suite". She was also nominated for the annual Australian Young Achievers Award by the Arts Council of Australia who granted her the funds to come to New York to study with Rufus Reid. Nicki came to New York in May 1994.
In June 2000, Nicki began performing on Monday nights at the Iridium Jazz Club with the legendary guitarist and inventor, Les Paul. As part of the Les Paul Trio, Nicki worked side-by-side with guitar greats from Paul McCartney, Slash, Steve Miller to fellow Aussie, Tommy Emmanuel.
Since then she has performed with such notable musicians as Michel Legrand, Joe Wilder, Randy Brecker, Clark Terry, Jose Feliciano, Bucky Pizzarelli, John Pizzarelli, Dick Hyman, Patti Labelle & the New York Pops Orchestra, Harry Allen, Marlena Shaw, David Krakauer, Ken Peplowski, Ann Hampton Callaway, Bill Mays, Scott Hamilton, Lillian Boutte, Larry Carlton and Houston Person, just to name a few.
Nicki has also performed in several Broadway shows such as Avenue Q, Imaginary Friends, You're a Good Man, Charlie Brown, Summer of '42 and Jekyll and Hyde and has made several television and documentary appearances including The Gossip Girls, Chasing Sound and Thank You Les, which recently debuted on PBS.
In 2007 and 2008, Nicki received back to back honors for Swing Journal's Best Jazz Vocal Album (Moon River and Fly Me to The Moon, respectively).
In 2010 her album Black Coffee (Venus) received Swing Journal's Gold Disc award.
In 2012, Nicki headlined the Fujitsu Concorde Jazz festival after the release of her eighth CD from Venus Records, Sakura Sakura. She is currently recording her 16th release for the label.
Nicki has performed at most major festivals around the globe including the Mary Lou Williams Jazz Festival, Newport Jazz Festival, Jazz in July at the 92nd Street Y, Litchfield Jazz Festival, Detroit Jazz Festival, the Lionel Hampton Jazz Festival and the Newport Beach Jazz Party, Jazz Ascona and Bern Jazz Festival in Switzerland and many others.
"…A rarity, a first-class bassist whose playing is as sublime as her vocals." – LIMELIGHT 2012
Nicki actively participates in continuing musical education for women, helping them further their careers and remain active in music well beyond their teen years. She takes pride in teaching music to inner-city children, giving them opportunities to express creativity, encouraging them to stay actively involved with school, and opening up brighter options for the future. Nicki involvement has included programs such as: Women in Jazz, New York Pops: Create A Symphony and Musical Mentors, WBGO-FM & NJPAC's Jazz for Teens and Litchfield Jazz Camp.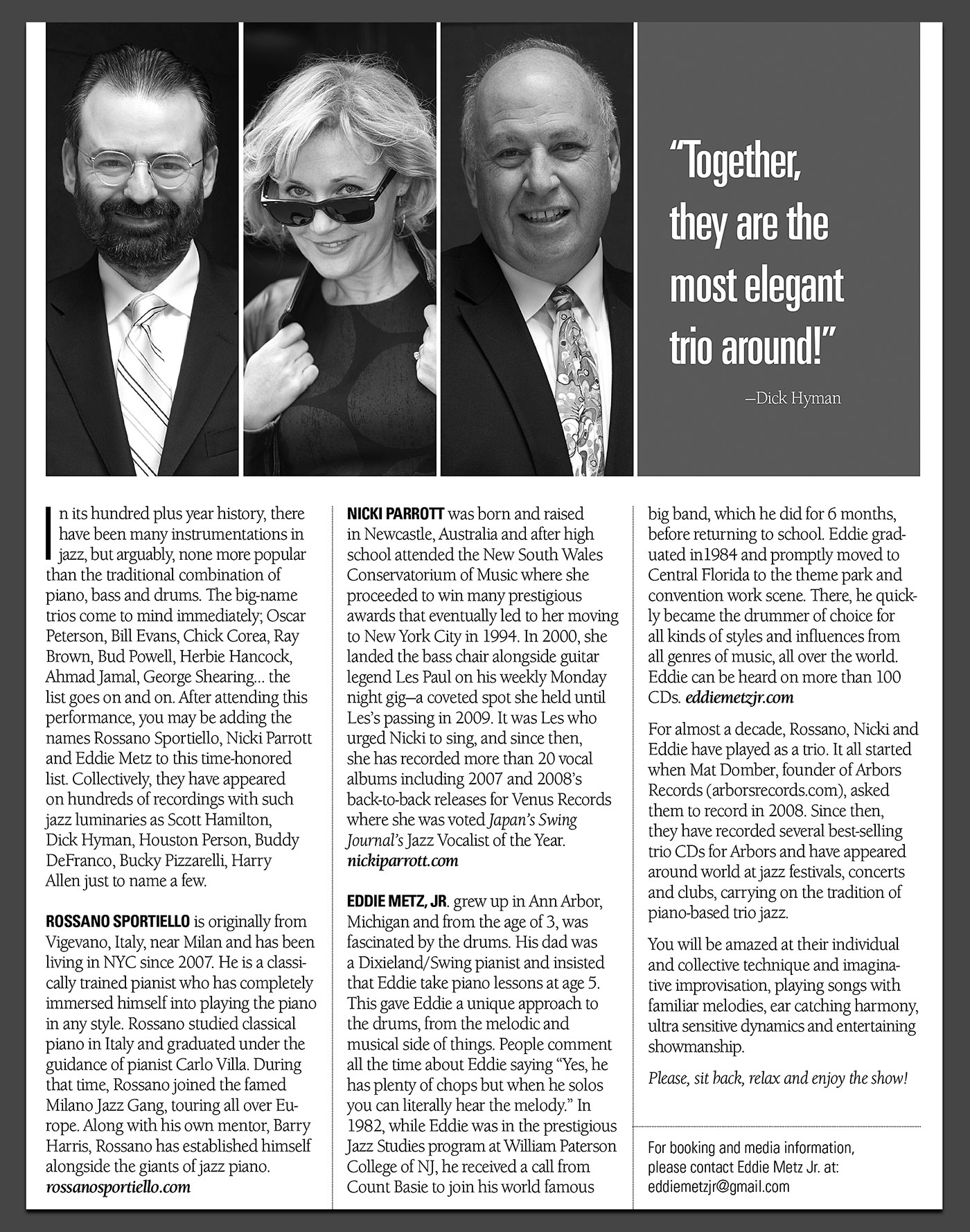 Award-winning jazz pianist Rossano Sportiello was born in Vigevano, Italy on 1 June 1974 and started performing professionally at the age of 16 at venues in the Milan area. In 1992, he joined one of Europe's historic jazz bands, the "Milano Jazz Gang" touring with the group throughout Italy and West Europe until the end of 2000. In the same year, Rossano met legendary jazz pianist and educator, Barry Harris, who became a mentor and good friend. Mr. Harris has touted Rossano as "the best stride piano player" he has ever heard and on several occasions has invited Rossano to perform during his own performances. Stylistically, although international critics consider Rossano a follower of Ralph Sutton, Dave McKenna and Barry Harris, the influence of other great masters can be heard in his playing, such as Fats Waller, Teddy Wilson, Art Tatum, Count Basie, Earl Hines, Ellis Larkins and Bill Evans, to name a few.
Rossano was introduced as a soloist by trombonist/arranger Dan Barrett and drew international acclaim at the 2002 Ascona Jazz Festival (Switzerland) while performing with the eight-piece, all-star American band led by Barrett, which was enthusiastically received by the audience and critics alike. Rossano has performed several times at Ascona since and standing ovations after his performances are not uncommon. In July, at the 25th anniversary of the festival, Rossano received the 2009 Ascona Jazz Award in recognition of his expertise and mastery of jazz piano, in particular stride piano. Rossano made his first trip to the United States and was introduced to the American audience at the invitation of Mat Domber (Arbors Records) to perform at the 2003 "March of Jazz" party in Clearwater Beach, Florida. Following his marriage to American writer, Lala Moore, in 2007, Rossano established himself in New York City.
Rossano has performed with the world's finest jazz luminaries, such as Slide Hampton, Clark Terry, Barry Harris, Dan Barrett, Kenny Davern, Bucky Pizzarelli, Bob Wilber, Warren Vache, Bob Cranshaw, Mickey Roker, Harry Allen, Howard Alden, Joe Wilder, Eddie Locke, Joe La Barbera, Scott Hamilton, Jake Hanna, Houston Person, Bill Charlap, Dick Hyman and many others. In recent years Rossano has been in great demand in the United States appearing at New York venues such as the 92nd Street Y, Town Hall, the United Nations and
My goal is to play jazz and make it understandable to everybody.
Most of all, I want to see people smiling and having fun!
Shanghai Jazz in New Jersey, as well as at the main jazz parties and festivals, including The San Diego Jazz Party, Chautauqua Jazz Festival, North Carolina Jazz Party, Rochester Jazz Festival, Odessa Jazz Party, Newport Beach Jazz Party, Arbors Records Invitational Jazz Piano Party, Rocky Mountains Jazz Party and the Roswell Jazz Festival. Internationally, Rossano has performed regularly at the Blackpool Swinging Jazz Party, Norwich Jazz Party, Nairn International Jazz Festival, Edinburgh Jazz Festival, Spoleto Piano Festival and Lucerne Piano Festival and at acclaimed venues such as the Philarmonie (Luxembourg), Teatro Alla Scala (Milan), Marians Jazz Room (Switzerland), Lionel Hampton Jazz Club (Paris), Blue Note (Milan ), Printzregentertheatre (Munchen-Germany) and Schloss Elmau (Germany), to name a few.
Rossano has recorded four solo piano CDs including "In the Dark" (2004, Sackville); "Piano On My Mind" (2005, Jazz Connaisseur), which won the "Prix Du Jazz Classique de l'Académie du Jazz de France"; Heart and Soul" (2006, Arbors Records), selected by the French magazine Jazz Classique among the top 10 of the year; and most recently, "It Amazes Me" (2009, Sackville). Rossano has also recorded two duet CDs with bassist/singer Nicki Parrott on Arbors Records, "Do It Again" (2009) and "People Will Say We're In Love" (2007), which was selected by The New Yorker magazine as one of the top 10 jazz CDs of 2007.
Eddie Metz Jr. was born in Allentown, PA and raised in Ann Arbor, MI, Ed received his first pair of drumsticks at the tender age of three from the drummer in his Dad"s dixieland band. He played his first professional job when he was twelve years old and hasn't stopped since. Some of Ed's private teachers include Butch Miles, J.C. Heard, Dave Samuals, Mousy Alexander, Elliot Zigmund and Horace Arnold. A graduate of the acclaimed Jazz Studies program at William Patterson College, Ed has performed with some of the biggest names in jazz including the Count Basie Orchestra, Chick Corea, Arturo Sandoval, Woody Herman Orchestra, Scott Hamilton, Clark Terry, Dick Hyman, Milt Hinton, Tommy Newsom and Ken Peplowski. Ed has appeared on more than 50 recordings with such artists as Bob Wilber, The Canadian Brass, Kenny Davern, Warren Vache, Jr., Bucky Pizzarelli, Bob Haggart, Ralph Sutton, Allan Vache, and Howard Alden.
In March 1999 Ed had the opportunity to lead his own group (which included Randy Sandke and Harry Allen) for a CD on the Nagel-Heyer label of Hamburg, Germany. That recording, titled "Tough Assignment", is a tribute to the great jazz drummer of the 30s and 40s, Dave Tough. Five other CD's are scheduled for release in the near future. Another major part of Ed's career has been his involvement with The Black Dogs. This was a ground-breaking group of musicians who all had their roots in Dixieland jazz. In 1989 the Black Dogs took the jazz festival circuit by storm with thier unique style of music. Although the band broke up in 1997, the original members have combined again for reunion concerts in Victoria, B.C., and Clearwater, FL.
Because of the Black Dogs' popularity, Ed has become the drummer of choice for many jazz artists. This has enabled him to appear at more than 60 jazz festivals around the world, including tours of mainland China, Europe and Canada. A 15-year resident of Orlando FL, Ed recently completed 14 years as a staff musician and clinician at Walt Disney World. Ed is also on the teaching staff at several jazz camps around the country including Sacramento and Mammoth Lakes, CA.